Tutorials
CADTutor tutorials are all original and specifically designed to get you working with AutoCAD and other applications as knowledgeably as possible. We don't believe in providing only quick step-by-step tutorials like other sites. Our tutorials are comprehensive and aim to give you a deeper understanding and a better learning experience. See the AutoCAD tutorials page for more information.
If you can't see what you're looking for on this page, take a look at the list of all tutorials and don't forget that there's lots more content in the Michael's Corner section of the site.
We're always on the lookout for good content. If you have a tutorial or an article that you'd like to see published on CADTutor, get in touch using the contact form.
Tutorials of the Moment
The most recently viewed tutorials
| | | |
| --- | --- | --- |
| All about the UCS icon. | | This tutorial explains the main issues to consider when drawing in AutoCAD and preparing a drawing for use in 3D work. |
| Last visited: 3 minutes ago | | Last visited: 3 minutes ago |
| A simple exercise to help you understand how images work in AutoCAD. | | These techniques apply to basic CAD programs such as AutoCAD, IntelliCAD, etc. If you have a civil/survey program or add-on, such as Land Desktop, SurvCADD, Eagle Point, etc., then there are built-in tools for entering lines and curves. |
| Last visited: 4 minutes ago | | Last visited: 6 minutes ago |
Featured Tutorials
Tutorials we think you'll like
| | | |
| --- | --- | --- |
| In this AutoCAD 2014 training course from expert author Brian Benton, you will learn the basics of using the tools and techniques available to you in this CAD software program. | | In this advanced AutoCAD 2014 training course, expert author Brian Benton builds on your basic AutoCAD knowledge, and teaches you more advanced concepts and complex ways to apply the tools available to you in this CAD software program from Autodesk. |
| Last visited: 20 minutes ago | | Last visited: 1 hour ago |
| In this AutoCAD Sheet Sets training course, Autodesk CAD expert Brian Benton will show you how to create and manage Sheet Sets for your CAD projects, making you more efficient and organized. This tutorial is for users that already have a working knowledge of AutoCAD and want to get more organized and efficient. | | This video based training course will teach you techniques to enhance AutoCAD drawings using Photoshop so that your plans can convey color, texture, and shadow. |
| Last visited: 1 hour ago | | Last visited: 45 minutes ago |
Tip of the Day
AutoCAD Alias Editor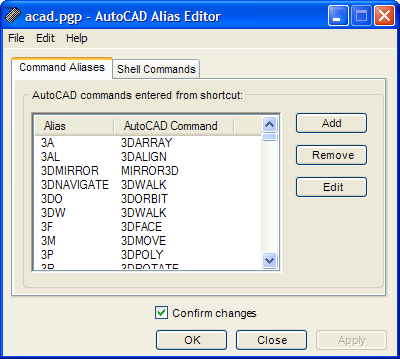 If you're new to AutoCAD or even if you're not and you find it difficult to remember all the keyboard shortcuts to your favourite commands like L for Line and C for Circle or even 3DO for 3DOrbit, then you need to know about the AutoCAD Alias Editor.
Enter ALIASEDIT at the command line and AutoCAD will launch a tiny application window that lists all the shortcuts in alphabetical order. As this is a seperate application, you can keep it minimised on your taskbar until you need it for reference.
Essentially, this editor simply lists the contents of the acad.pgp file where all the command aliases are stored. Those of you who are a bit more adventurous, may even like to use the Alias Editor to create your own aliases or edit existing ones.
Missed a Tip?
Did you miss yesterday's tip? Maybe you forgot to drop by or maybe you don't visit over the weekend. If so, you can now see all the tips published during the past week. Also, if you have a tip you'd like to share with us, you can post it on our forum and if we like it, we'll publish it here.