Tutorials
CADTutor tutorials are all original and specifically designed to get you working with AutoCAD and other applications as knowledgeably as possible. We don't believe in providing only quick step-by-step tutorials like other sites. Our tutorials are comprehensive and aim to give you a deeper understanding and a better learning experience. See the AutoCAD tutorials page for more information.
If you can't see what you're looking for on this page, take a look at the list of all tutorials and don't forget that there's lots more content in the Michael's Corner section of the site.
We're always on the lookout for good content. If you have a tutorial or an article that you'd like to see published on CADTutor, get in touch using the contact form.
Tutorials of the Moment
The most recently viewed tutorials
| | | |
| --- | --- | --- |
| This exercise is designed to progress your skills in 2D drafting and to test your understanding of layouts and printing to scale from paper space. | | This tutorial discusses the various ways you can make your modelling work more efficient. |
| Last visited: less than one minute ago | | Last visited: less than one minute ago |
| This tutorial takes AutoCAD groundmodel data and uses it to create a landform mesh in 3ds Max with Quickscape. | | Gaining the skill to navigate efficiently around a scene and around objects and parts of objects (sub-objects) efficiently and with ease is of paramount importance to good modelling. Most new users of MAX / VIZ need to get over this first hurdle before feeling comfortable in the 3D environment. Fear not, MAX / VIZ has a host of tools for the purpose. This tutorial descibes the most useful navigation techniques. |
| Last visited: 1 minute ago | | Last visited: 1 minute ago |
Featured Tutorials
Tutorials we think you'll like
| | | |
| --- | --- | --- |
| In this AutoCAD 2014 training course from expert author Brian Benton, you will learn the basics of using the tools and techniques available to you in this CAD software program. | | In this advanced AutoCAD 2014 training course, expert author Brian Benton builds on your basic AutoCAD knowledge, and teaches you more advanced concepts and complex ways to apply the tools available to you in this CAD software program from Autodesk. |
| Last visited: 45 minutes ago | | Last visited: 2 hours ago |
| In this AutoCAD Sheet Sets training course, Autodesk CAD expert Brian Benton will show you how to create and manage Sheet Sets for your CAD projects, making you more efficient and organized. This tutorial is for users that already have a working knowledge of AutoCAD and want to get more organized and efficient. | | This video based training course will teach you techniques to enhance AutoCAD drawings using Photoshop so that your plans can convey color, texture, and shadow. |
| Last visited: 1 hour ago | | Last visited: 2 hours ago |
Tip of the Day
Add additional "standard scales"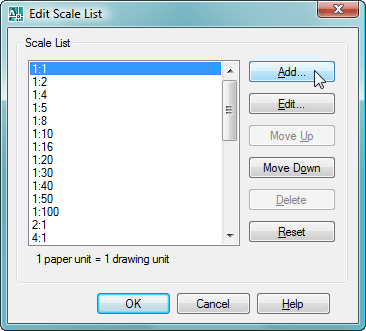 To create additional "standard scales" in AutoCAD, type SCALELISTEDIT. You will then see the Edit Scale List dialog, shown on the right.
Click on the Add… button. In the Add scale dialog, enter the name of the scale, for example "1:1250", this is the name that will appear in the list. Then enter the Paper units and Drawing units as desired.
Note: "Drawing units" refers to the modelspace units.
Missed a Tip?
Did you miss yesterday's tip? Maybe you forgot to drop by or maybe you don't visit over the weekend. If so, you can now see all the tips published during the past week. Also, if you have a tip you'd like to share with us, you can post it on our forum and if we like it, we'll publish it here.